What Quick Weightloss Tips Is All About
My name is Douglas, and I built this website to help you lose weight. I've lost 25 pounds myself and kept it off for several years.
I used lots of little tips and tricks to reach this healthier weight, and I decided to start this website so I could share them with you.
My site includes lots of free resources and tips to help you reach your weight-loss goals. This page explains what you will - and won't - find on my site.
First of all, while I sometimes mention or talk about various weight-loss systems, I'm not pushing a particular diet and exercise program. In my opinion, you can lose weight with any weight-loss program, as long as you can stick to what I'll call The Golden Rule of Weight Loss:
To lose weight, you must burn more calories than you take in.
Simple to say that, but easier said than done. Thus the need for weight loss programs and fat loss tips!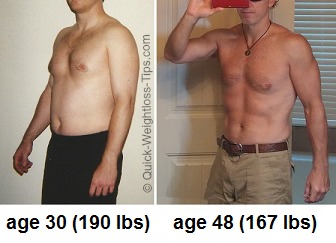 So whether you're using NutriSystem, Weight Watchers, Atkins Diet, or another program, keep using it as long as you're happy with it.
But in addition to the meals, workouts, and so on provided by your weight-loss program, consider adding clever little weight-loss habits to your daily routine.
I'm talking about automatic habits that shift your lifestyle toward fat-burning and weight loss. They can give you that edge to help break through plateaus and lose even more pounds.
For example, one clever trick is to swap out your large dinner plates for smaller plates. I call this tip portion plates.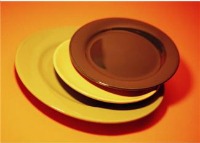 The idea is simple. We tend to fill up whatever size plate we have. Subconsciously we don't want the food to look small and lonely!
And, of course, we then tend to eat everything on our plate. Just like Mamma always said, "Don't waste food!" Right? And we overeat and get stuffed - and consume too many calories.
So use a smaller plate. You can easily cut the calories for that meal in half, without violating the "eat everything on your plate" rule.
I'm to the point where a salad plate looks normal to me, and a regular dinner plate appears ridiculously huge.
So much of life is habits. The powerful thing about habits is they put behaviors on autopilot, so you don't waste mental energy trying to remember to perform the associated activity.
The secret is to eliminate the habits that block you from reaching your weight-loss goals AND replace them with good habits that push you toward weight loss.
That's what this site is all about. Clever tips and tricks, and helpful resources, that you can add to your weight loss program to increase your chances of success.
Interact with Me and Other Visitors
Questions, comments, or feedback about this site? Send me an email through the form on my Contact Me page.
You can also post your thoughts about specific pages in the Comments section at the bottom of most pages on this site.
Here is a screen image of what the Comments section looks like: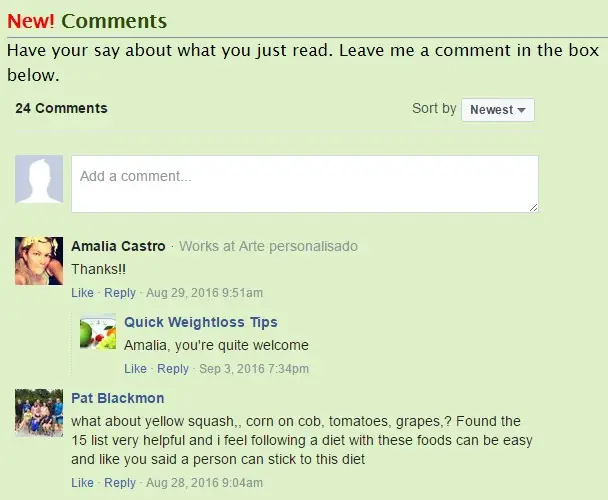 To enter Comments, first log in to your Facebook account. Then type your comments directly on the page. (I moderate comments before they go live.)
I hope you find my website helpful!
Best regards,


Author, Quick-Weightloss-Tips.com