Cinnamon and Weight Loss
It's not something you would guess, but it turns out that
cinnamon and weight loss
are interconnected. That yummy spice does more than jazz up bland dishes.
Cinnamon is an all-natural fat minimizer that everyone interested in losing weight should have in their pantry.
Below I briefly explain how cinnamon can help with fat loss. I also give you examples of dishes that I very often add cinnamon to.
The bottom line of cinnamon and weight loss is that cinnamon has the ability to moderate (lessen) the height of blood sugar spikes. Extreme jumps in blood sugar is something anyone wanting to lose weight should avoid.
When the level of glucose in your blood is too high, the hormone insulin is secreted by your body to mop up all that excess sugar. The insulin causes that sugar to be converted into (you guessed it) - fat.
According to research studies, cinnamon can help diminish the blood sugar spike, so less insulin gets released into your bloodstream. Insulin sensitivity is also enhanced as a result, which helps with natural appetite control.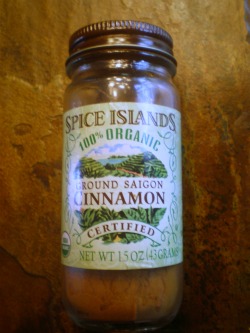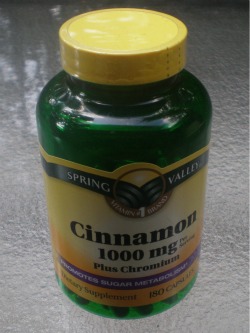 Cinnamon and Weight Loss: Very Simple Recipes
The cinnamon recipe ideas I've listed below are so basic, I really shouldn't call them "recipes" at all. All I'm really suggesting here is that it is a simple matter sprinkle cinnamon onto all kinds of foods and beverages, and thus enjoy the taste of cinnamon and weight loss benefits without much fuss. The following are healthy weight loss foods that I enjoy, that I eat often, and whose taste is enhanced by the addition of a sprinkling of this yummy spice.
Cinnamon and Tea (or Coffee). I drink a lot of green tea for its numerous health benefits, including fat loss. As you can see in the image at right, it is a simple matter to sprinkle a little cinnamon on your tea.

Cinnamon also makes a wonderful addition to a hot cup of coffee, though, and coffee drinkers out there who haven't tried it definitely should.

 
Cinnamon and Oatmeal. I eat this almost every morning, as soon as I get up. It's incredibly easy to make and very healthy.

Pour a half a cup of 60-second "quick oats" in a bowl. Add a pinch of Stevia all-natural sweetener and a couple of shakes from the cinnamon jar. Add half a cup of milk and stir. Microwave for 60-seconds, let it sit for a minute or two, and then it's ready to eat.

 
Cinnamon and Apple Sauce. A healthy side for any meal is no-sugar-added apple sauce. My family and I eat apple sauce often, because it's simple and most of us like it.

As the picture here shows, all you need to do is sprinkle a dash of cinnamon on top to enhance the flavor of the apple sauce and increase the weight loss benefit of this easy side dish.

 
Cinnamon and Cottage Cheese. For those who can tolerate daily products, low-fat cottage cheese is one of the best sources of non-meat protein you can find. The cassein in cottage cheese digests slowly so you don't get the blood sugar spike that leads to weight gain.

I eat a small amount of cottage cheese almost daily. To boost your cinnamon and weight loss efforts simply sprinkle a bit of cinnamon on some cottage cheese for a tasty high-protein, fat-burning snack.

 
Cinnamon Toast. This is an obvious one. Who hasn't tried cinnamon on toast? The toast in this picture isn't made from just any bread though, it's made from sprouted whole-grain.

This time, I added a couple pads of regular butter, a pinch of Stevia sweetener, and then the cinnamon on top of that. The red stuff on the side is a small pile of cranraisins.

 
Cinnamon on Cereal. How easy is it to sprinkle cinnamon on cereal? The secret is to begin with a plain, healthy, low sugar cereal like Corn Flakes which has only 2 grams of sugar per serving.

You might think you could simplify things by purchasing ready-made cinammon cereal at the grocery store. There are many brands such as Cinnamon Toast Crunch that trick you by adding a healthy spice to an unhealthy food. Unfortunately, besides the cinnamon, the cereal manufacturers also like to throw in refined sugar and artificial ingredients.

 
Okay, so I've explained the dynamics between cinnamon and weight loss, and I've given you lots of examples of foods to which you can add cinammon with good effect.
You don't have any excuses left, now! Go out, buy some ground cinnamon, and start sprinkling it on your food every day
Those few who don't like the taste or texture of cinnamon have no excuse to not consume cinnamon for its health and weight loss benefits.
Buy the cinnamon capsules, and take them with food along with your multivitamin and whatever other vitamins you normally take.
If you found the page above interesting, fun, or useful, please click the "Like" and/or "Share" button below. Feel free to leave a comment as well. Thanks very much!