Easy Healthy Recipes for Weight Loss
Here are some easy healthy recipes you can try. Each recipe is either low in calories, low in fat, low in sugar, or all of the above.
I've labeled each recipe to let you know which kind it is.
Healthy eating is a major part of any weight-loss program, obviously. Exercise alone won't get you to your weight-loss goals.
Even if you don't like to cook, give it a try anyway. These recipes are not difficult, and forming the habit of cooking at least one meal a day is easier than you think.
Easy Healthy Recipes
I'm continually adding new recipes to my healthy recipes collection. So be sure to check back periodically to see what's new.
I've included recipes that are not overly complex and that don't require highly unusual ingredients. Cooking for weight loss shouldn't be complicated! After all, I need to cook these recipes too. (Believe me, I'm no gourmet chef.)
Tip for Healthier Eating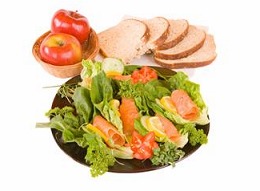 To lose more weight, prepare at least
one healthy recipe a day.
A great way to start eating healthier is to slowly decrease the amount of fast food you eat and cut back on how often you "eat out of a box" at home.
Those microwave burritos may be quick and easy to prepare, but even the "diet" versions of such items often include too much salt or hidden, unhealthy preservatives.
Set a goal to cook at least one meal a day using a healthy recipe and fresh ingredients. Real cooking takes a little time and preparation, but you'll be rewarded with a feeling of accomplishment, plus you'll know exactly what has gone into the food.
Have a question or feedback about any of these recipes? Submit you comments to me using the "Contact Me" button at left.
Home > Easy Healthy Recipes
If you found the page above interesting, fun, or useful, please click the "Like" and/or "Share" button below. Feel free to leave a comment as well. Thanks very much!