Grilled Jalapeno Poppers Recipe (Low Fat)
(The following recipe for low-fat grilled jalapeno poppers was created by FatLossGal, whose enthusiasm for this dish really shines!)
If you love stuffed jalapenos, I have a tasty grilled jalapeno poppers recipe just for you. I enjoy cooking, and healthy, quick, and simple are what I look for in a recipe.
This jalapeno recipe is sure to be a family favorite and party hit. Best of all, there is no frying involved, so no greasy mess, flour, or breading. This jalapeno recipe is as simple and mess-free as it comes.
Some time ago, I tried chicken stuffed jalapeno poppers at one of my favorite Mexican restaurants, On the Border, and thought they were the most delicious jalapeno poppers I'd ever had.
I've been eating these awesome jalapeno poppers ever since. I have tried many different jalapeno poppers, and hands down chicken stuffed jalapenos are my favorite.
Grilled low-fat jalapeno poppers are tasty, spicy,
and very easy to make.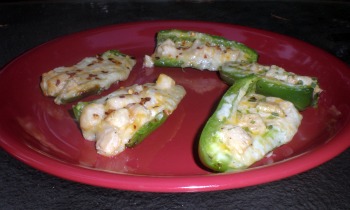 At our house we love to grill everything from burgers to pizza. There is just something special about being outdoors in the fresh air soaking up the incredible smell of food cooking on the grill.
So I decided to create a simple low-fat, chicken-stuffed jalapeno recipe that was grill friendly, and it was an instant hit. Who doesn't enjoy grilling, especially on a lovely cool evening with family and friends gathered around?
Grilled Jalapeno Poppers - Ingredients
12 large jalapeno peppers

2 tablespoons of margarine, melted

2 tablespoons of fat-free sour cream

1 cup of fat-free or low-fat Mexican blend shredded cheese

1 cup of fat-free or low-fat Monterey jack shredded cheese

½ cup cooked boneless chicken breast
Stuffed jalapeno peppers, hot off the grill!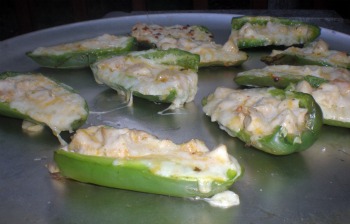 These mouth watering grilled chicken jalapeno poppers are the perfect appetizer for any party or an excellent side dish with your Saturday night Mexican fajita fiesta.
Going tailgating or having people over to watch the game? You will have an instant winner with these easy and delicious jalapeno popper appetizers. After tasting these jalapeno poppers, your guests will sure to be coming back for more.
Grilled Jalapeno Poppers - Directions
 
Slice jalapeno peppers in half lengthwise, cut off stems, remove seeds. Mix remaining ingredients in a medium bowl: butter, sour cream, shredded cheese, cooked diced chicken. Stuff the halved jalapeno peppers with the above mixture.

Grill at 325 degrees F (medium heat) on a lightly oiled grate for 10 minutes, or until cheese mixture is completely melted.
If not grilling, you can bake in a preheated oven at 325 degrees for 10 minutes or until the cheese is completely melted. Then enjoy!
If you are a seafood lover, you can substitute the chicken in the stuffed jalapeno poppers with shrimp or fish. Cooked lean ground beef can be substituted for the chicken in these stuffed jalapenos too.
Jalapeno peppers are becoming more well known for their role in weight loss. Did you know that eating jalapenos increases your metabolism?
They are a vegetable low in calories and also rich in fiber. How awesome is that, eating something so tasty that can help you lose weight and burn calories at the same time.
You can also jazz up your grilled jalapeno poppers by adding a little salsa (which is fat free) and fat-free sour cream on top.
Even a dash of dried red pepper flakes can be tasty and make a pretty presentation. I can't wait to go make another batch of these simple but healthy stuffed jalapeno poppers.
I hope you enjoy this recipe as much as I do. Happy Grilling!
If you found the page above interesting, fun, or useful, please click the "Like" and/or "Share" button below. Feel free to leave a comment as well. Thanks very much!