Queso Dip Recipe (Low Fat)
(The following low-fat queso dip recipe was created and submitted by FatLossGal.)
I have the best queso dip recipe for you to try. Imagine - friends have invited you over for appetizers and a movie. It is last minute, and you need something quick, easy, and delicious to bring. This is it!
This queso cheese dip is my absolute favorite dish to take to a party, or to make and eat at home, too. The fat-free and lean ingredients keep it healthy enough to not wreck your diet.
This chili con queso recipe is sure to be a party hit. There won't be much of this yummy dip left over to bring back home! It is usually served warm and can be kept in a crock pot when serving guests.
Try making my lean and tasty queso dip
for your next party!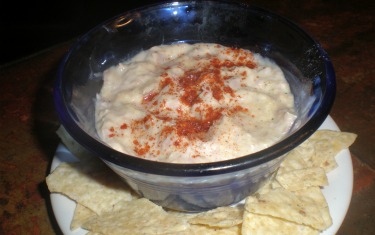 Serve this dip along your favorite tortilla chips, whether it be the Baked Tostitos Scoops that are relatively healthy and easy for dipping. Or, the delicious Tostitos tortilla chips with the "Hint of Lime" which are my personal favorite.
Multigrain tortilla chips are also a great chip to serve with this queso dip.
Queso Dip Recipe - Ingredients
1 lb block of Velveeta Light Cheese

10 oz can of Rotel (mild or hot)

½ lb. cooked lean beef or turkey sausage

4 oz of fat free sour cream
Queso also happens to be one of my favorite appetizers to order when eating out at my favorite Mexican restaurants, such as On The Border. You have to be careful at a restaurant, though, to not eat too much, since restaurant queso is usually made with real, fattening cheese.
Queso Dip Recipe - Directions
 

Cut cheese into small cubes and place in medium sized microwavable bowl. Add the can of undrained Rotel, cooked meat, sour cream, and mix all ingredients together.

Microwave on high for approximately 8 minutes or until cheese is completely melted, stirring occasionally.
If you are taking this delicious queso dip to a party, you may want to transfer the dip to a crock pot to keep it warm. To make it extra spicy, you can add sliced jalapenos to the queso dip to kick it up a notch or two.
You can still enjoy all the deliciousness of queso dip with out all the guilt when you use fat free and low fat ingredients. I really cannot tell the difference in taste.
Grab a bag of the baked or multigrain Tostitos tortilla chips, then sit down, relax, and enjoy this scrumptious queso dip recipe and let the good times roll.
This dip is great served with warmed tortilla chips for dipping, or spread it on hot fresh baked tortillas. You can also use it as a topping for your mouth-watering fajitas.

Other options: Pour this cheese dip over rice and beans, or spread a scoop over yummy chicken-stuffed jalapeno poppers. It can also serve as a fantastic queso cheese dip topping for your favorite veggies such as cauliflower or broccoli.

 
History of Queso Cheese Dip
When cooking a favorite dish, one of my favorite things to do is research the ingredients. I find the history of what we eat to be quite interesting and educational, and the history of a food is often not what you might have expected.
"Queso" originated in Chihuahua, Mexico, located on the Northwest Central Plain of Mexico. Queso, which means "cheese" in Spanish, came to the U.S. with one of the earliest queso dip articles dating back to the 1950's in California.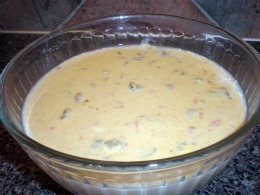 The original queso dip was made with different types of authentic melted Mexican cheeses. Today most of us queso fans are familiar with the Tex-Mex style of queso dip, using delicious, melt-in-your-mouth Velveeta cheese (as in the queso dip recipe above), mixed with the all-famous Rotel tomato sauce mix.
Rotel was created in the 1940's in southwest Texas by Carl Roettele, and his famous mixture of tomatoes and green chilies has been going strong ever since.
In 1918, Swiss immigrant Emily Frey of Monroe, New York made the first processed cheese product that is today known as Velveeta with it's smooth and creamy texture.
According to Kraft's website, In the 1930's Velveeta became the first cheese product to gain approval by the American Medical Association.
People of all ages love Velveeta. Whether it's Velveeta cheese dip or the famous Velveeta shells and cheese this tasty queso cheese dip recipe is sure to have your friends and family begging for more.
To make this recipe even more super-quick and simple, use precooked Jimmy Dean turkey sausage links or the Italian Style Armour (fully cooked) turkey meatballs to make this exceptional queso dip recipe superb.
If you found the page above interesting, fun, or useful, please click the "Like" and/or "Share" button below. Feel free to leave a comment as well. Thanks very much!